Efest SLIM K4 Charger
Efest SLIM K4 USB-C Charger Short Description:
SLIM K4 Charger is a intelligent charger that with a Type-C USB charging port. It is compatible with Lithium IMR 3.6V/3.7V batteries: 10440, 14500, 16340, 17340, 18350, 18490, 18500, 18650, 26500, 26650, 20700, 21700. LED indicator will show you the status of charger: indicator turns blue in standby mode/full charged, white color in charging. SLIM K4 Charger is designed with some smart functions, such as auto-detect charging, monitors and charges each slot independently, low voltage smart activation recovery function, 0V activation recovery function. Besides, it is safe for you to use with built-in intelligent protection chip.
Efest SLIM K4 Smart Charger Parameters:
| | |
| --- | --- |
| Brand | Efest |
| Product Name | SLIM K4 Charger |
| Compatible with | Lithium IMR 3.6V/3.7V batteries: 10440, 14500, 16340, 17340, 18350, 18490, 18500, 18650, 26500, 26650, 20700, 21700 |
| Input Power | DC 5V 2A |
| 2*1A CC Current | 2000mA±10% |
| 1*1A CC Current | 1000mA±10% |
| 4*0.5A/3*0.5A CC Current | 500mA±10% |
| Auto Cut-off Voltage | 4.20±0.05V |
| CV Cut-off Current | <100mA |
| Standby Current | <20mA |
| Activation Current | 50mA~100mA |
| Auto Recharge Voltage | 4.10±0.10V |
| Operation Temperature | 0℃~40℃ |
| Storage Temperature | ﹣40℃~+70℃ |
| Auto-detect Charging Current | 2×1.0A/1×1.0A/4×0.5A/3×0.5A |
Efest SLIM K4 Charger Details:
1. LED indicator description

2. Auto-detect charging

3. Safe charging mode: CC & CV

4. Safe and convenient USB charger (5V 2A)

5. Monitors and charges each slot independently

6. Low voltage smart activation recovery function

7. Incredibly lightweight and conveniently portable

8. Type-C USB charging port design

9. Built-in intelligent protection chip

10. 0V activation recovery function

11. High quality ABS fire-retardant material & electronic component

12. Safety protections: Short Circuit/Automatic Over-charging/Automatic Over-discharging/Reverse Polarity/0V Activation Recovery/Hardware and Software Double Protection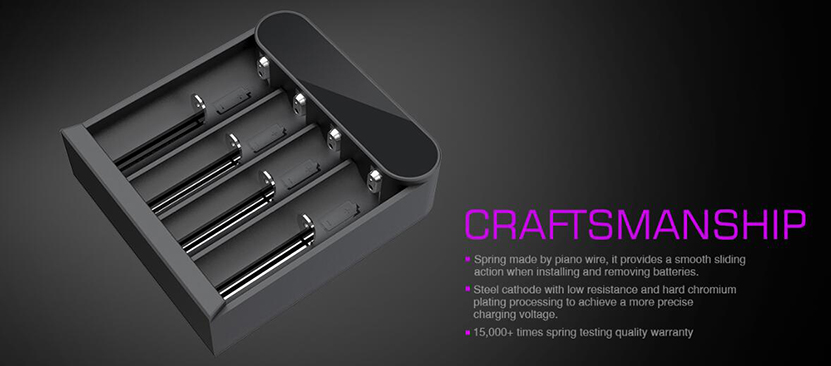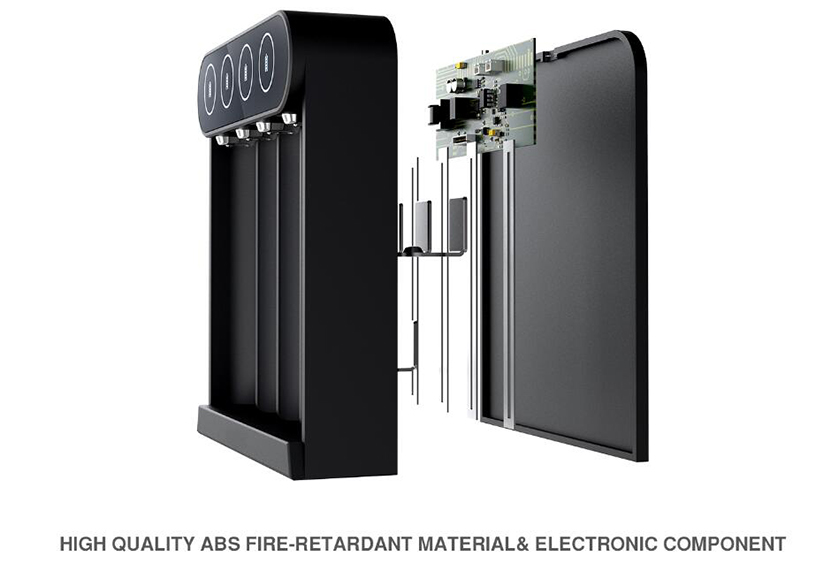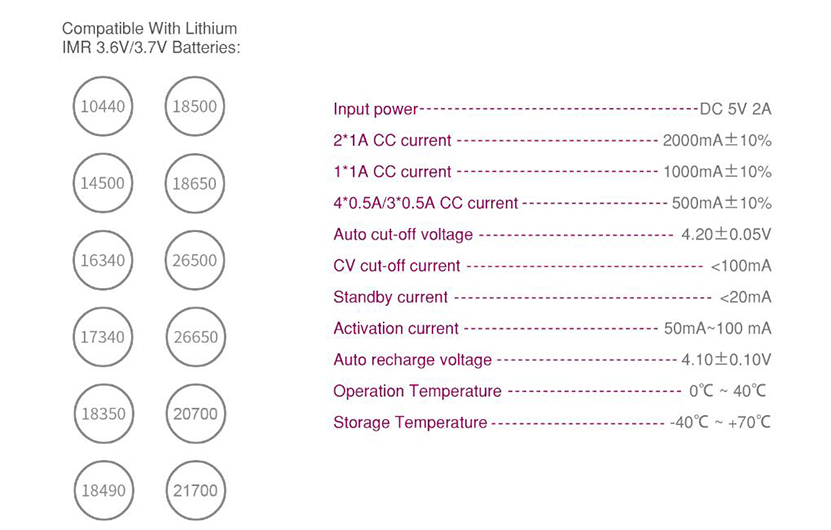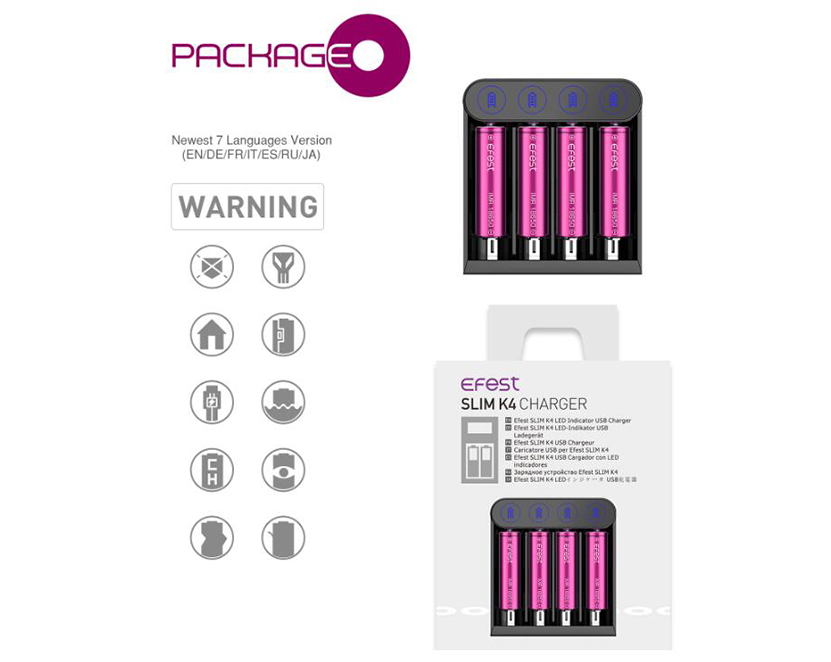 The package of SLIM K4 Charger Comes With:
1* Efest SLIM K4 Charger
1* User Manual