SMOK NOVO 2 25W POD SYSTEM
Novo 2 is the upgraded version of Novo, an advanced draw-activated device! It has been optimized from
every detail. With built-in 800mAh battery, longer vaping time is assured. Newly added air-intake grooves
on both sides can bring more air in, combining with specially designed pods, cloudy vapor and purer taste
can be produced. Also, it has redesigned sensing element to make you enjoy every puff, improved LED
indicator to clearly show you accurate device's condition. Innovation keeps changing vaping experience!
8 COLORS AVAILABLE
SMOK/NOVO% 202/% E8% AF% A6% E6% 83% 85% E9% A1% B5/images" alt="" style="text-align: inherit; -webkit-tap-highlight-color: rgba(0, 0, 0, 0); max-width: 100% ; vertical-align: bottom; height: auto; width: auto;">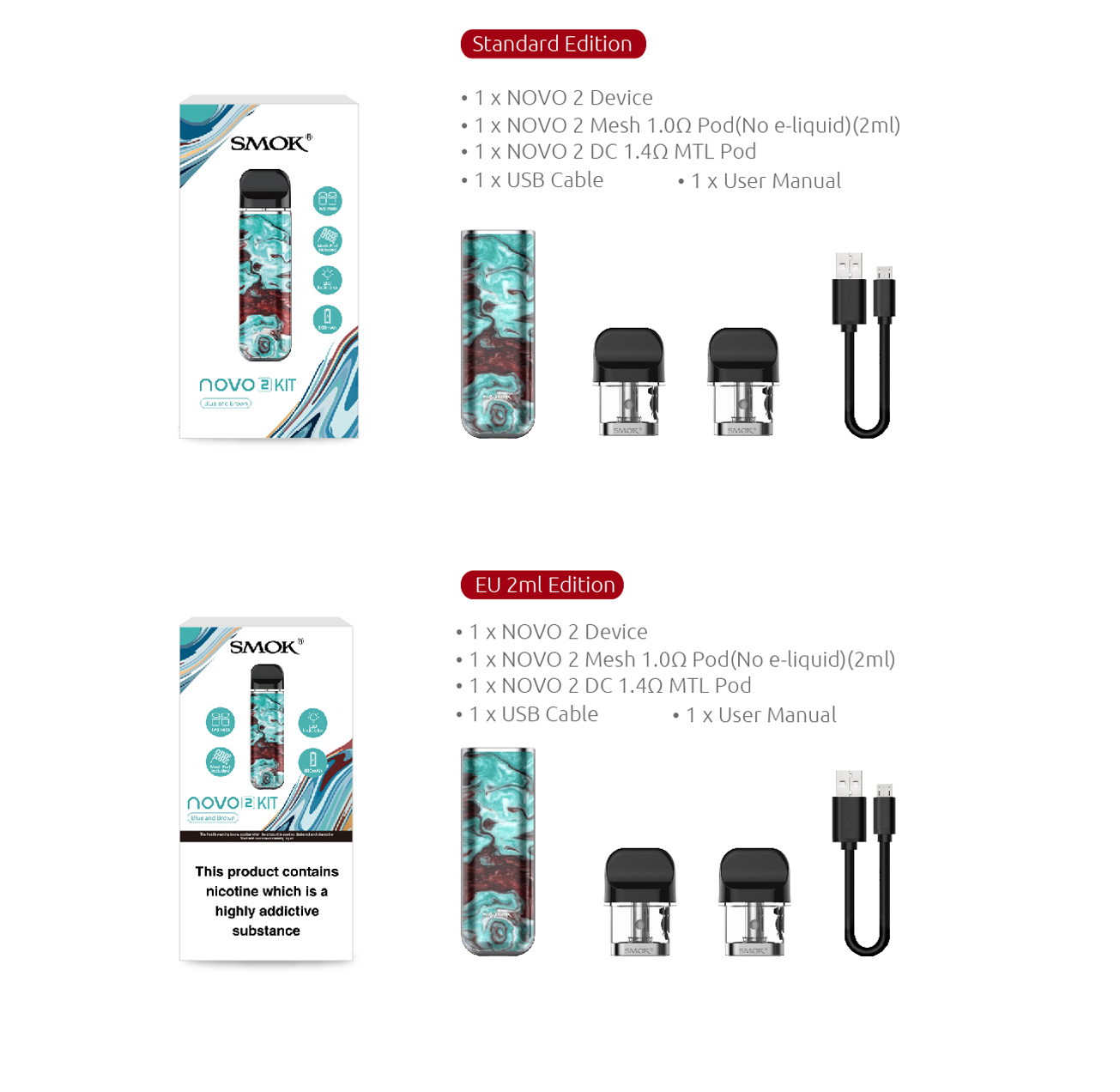 REPRESENTATIVE DESIGN
Novo 2 follows the design style of its first-generation, with curved body, it allows you to grip comfortably. And whistle-shaped
mouthpiece can perfectly fit your lips. It definitely is the representative product of the electronic cigarette industry.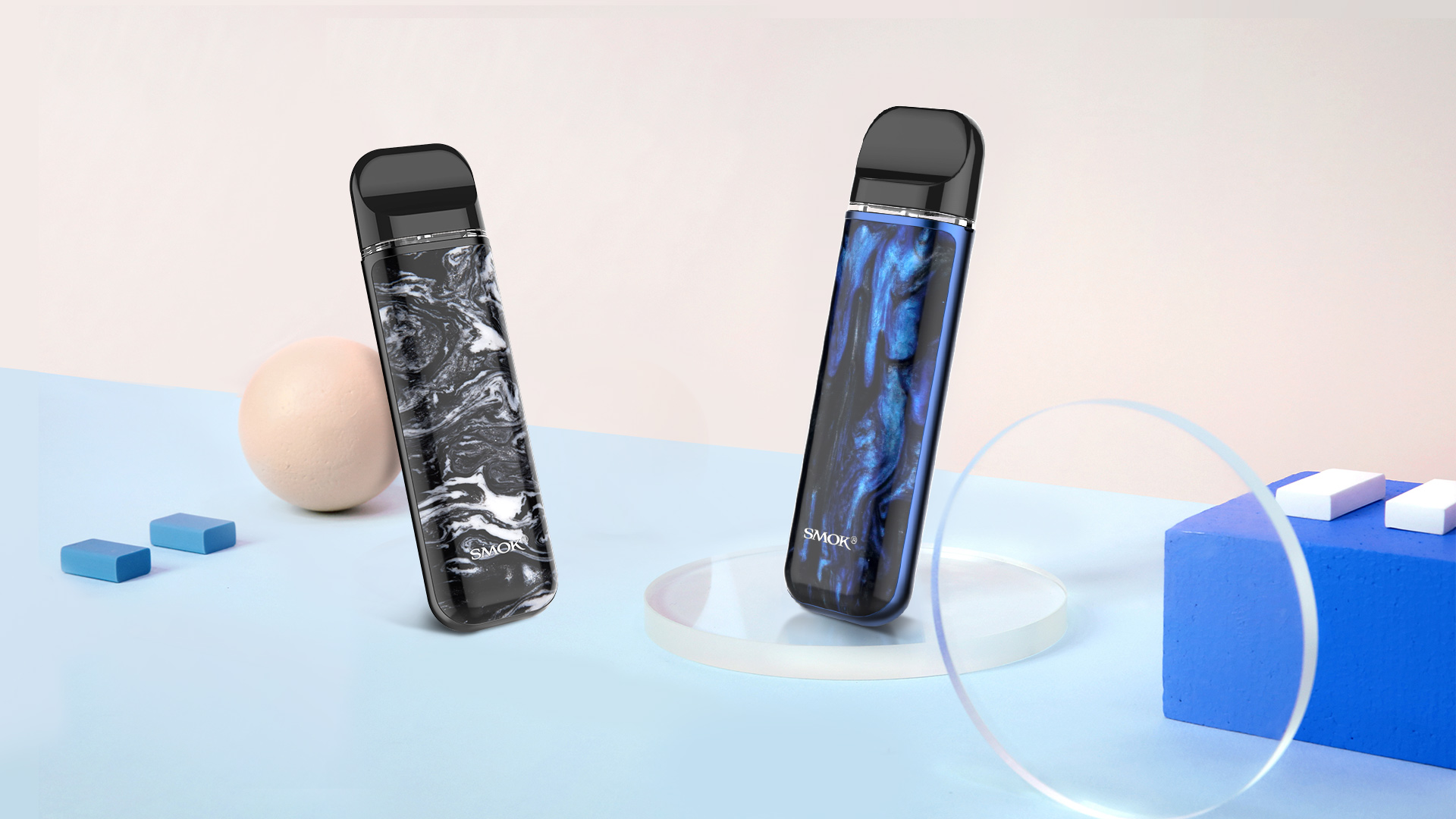 SPECIFICATIONS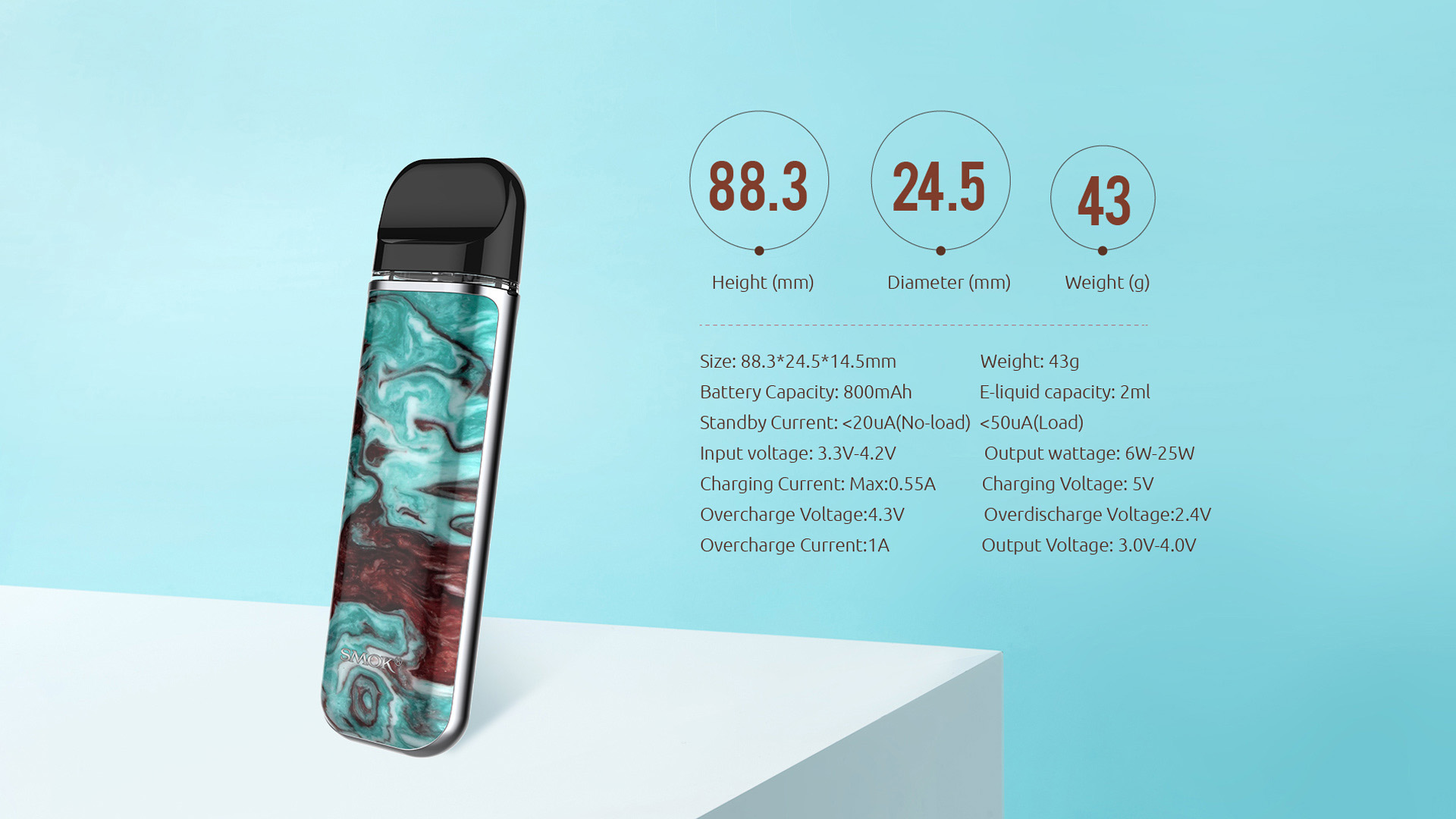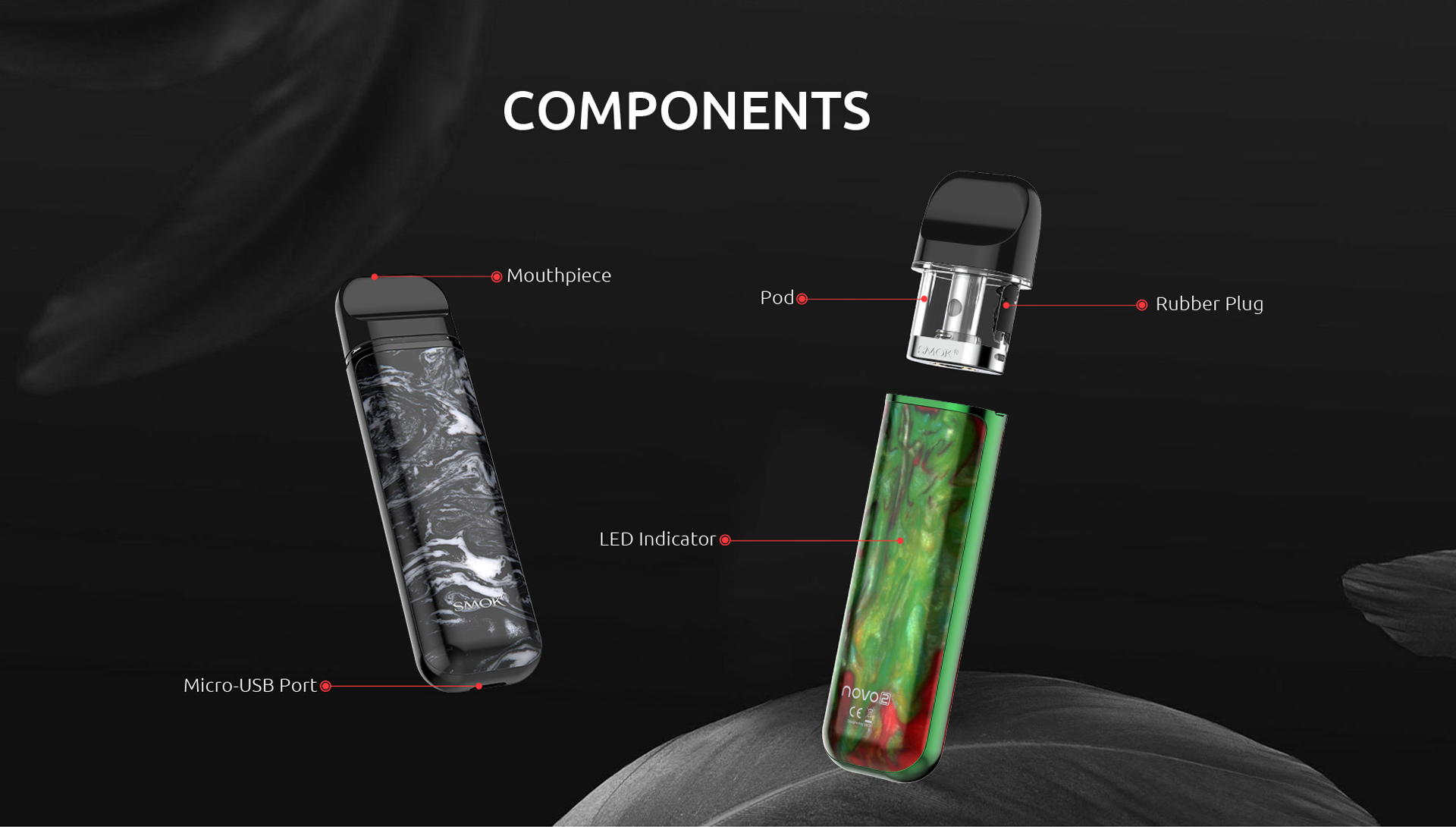 ACCOMPANY YOU ANYWHERE
Novo 2 has a size of 88.3*24.5*14.5mm , which is a definitely mini and light device! Smaller than your palm, so it
can be easily put into your pocket or bag. You can take it anywhere!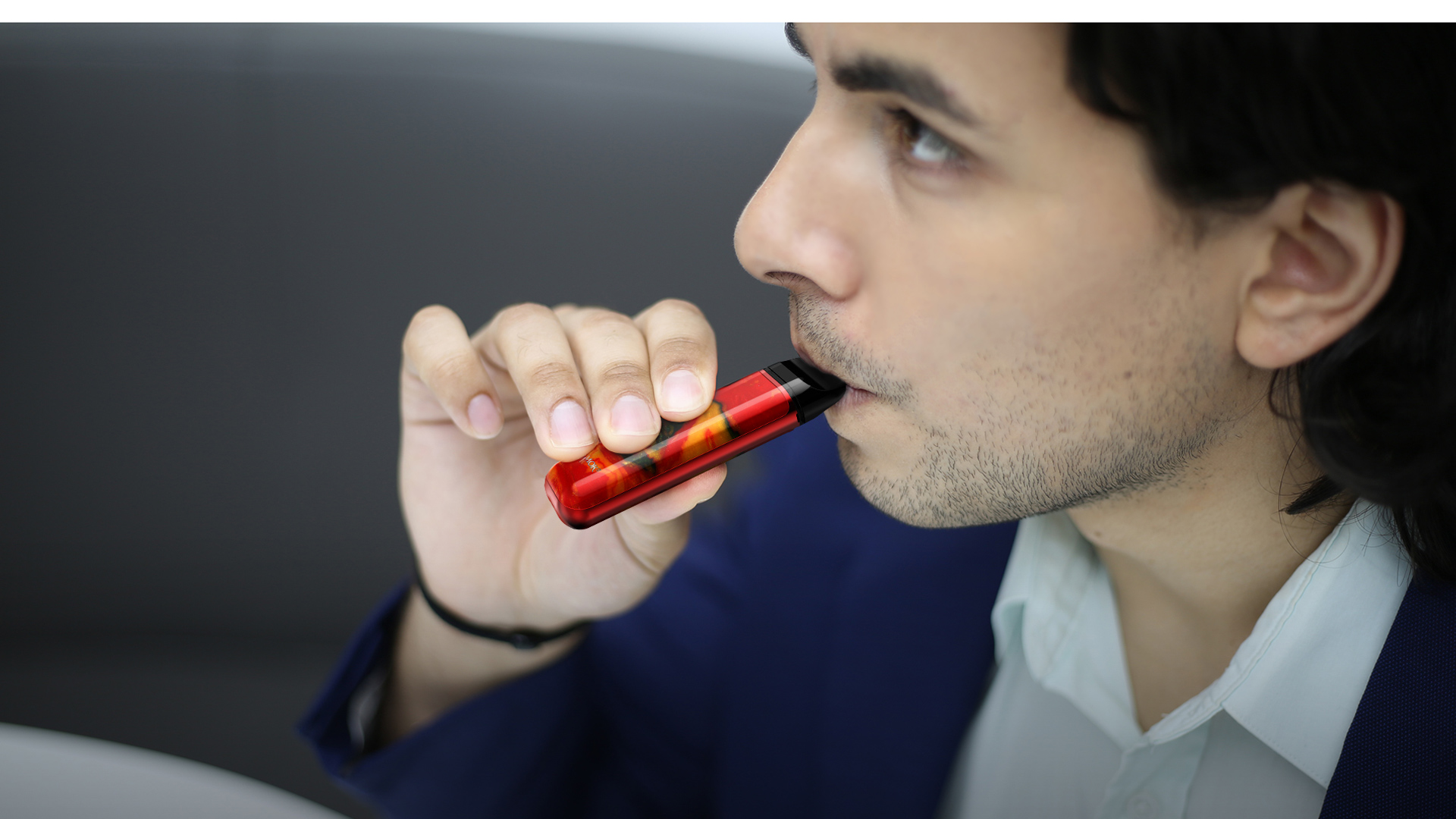 COMBINATION OF HIGH PERFORMANCE
AND LONG BATTERY LIFE
Engineers optimized charging port and motherboard's structure, improving whole performance and user experience.
With 800mAh battery inside, it can be used for about three days after fully charged. ( 200 puffs per day).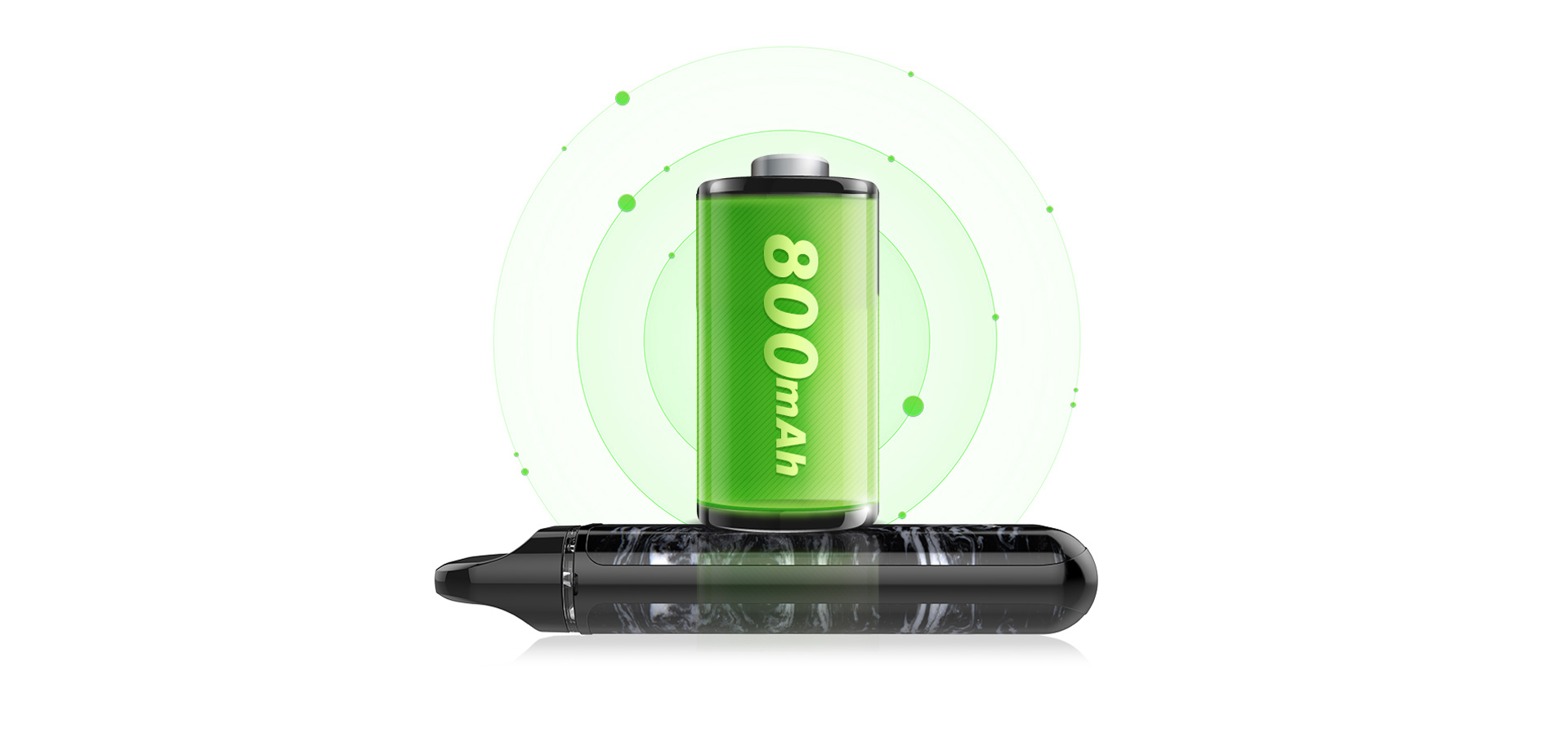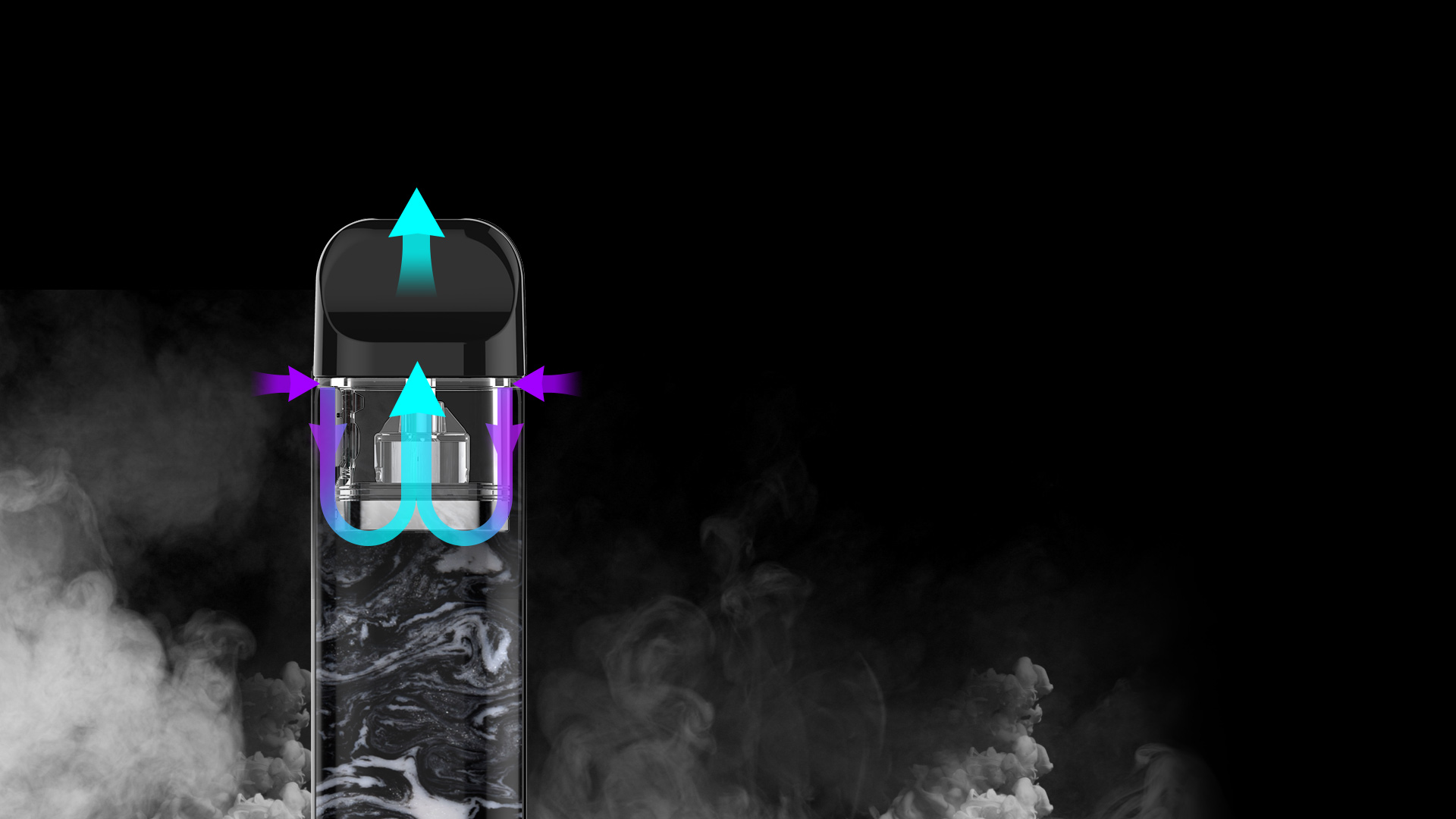 MAKE EVERY PUFF WORTH
The structure of air-sensing switch has been redesigned, and the sensing element is placed on one side of the U-shaped air
intake passage and protruded from the electrode plane to prevent the occurrence of contactless suction.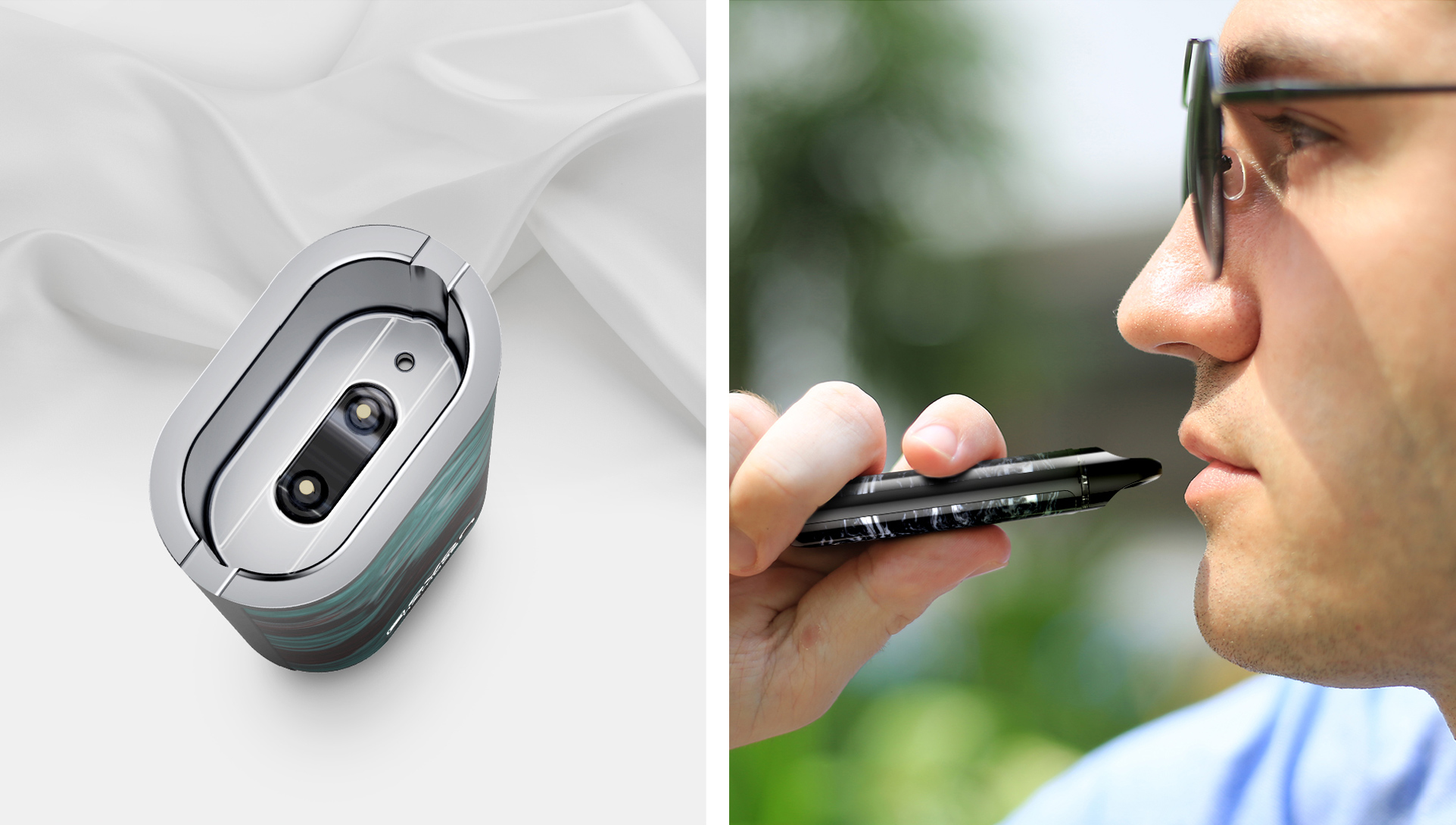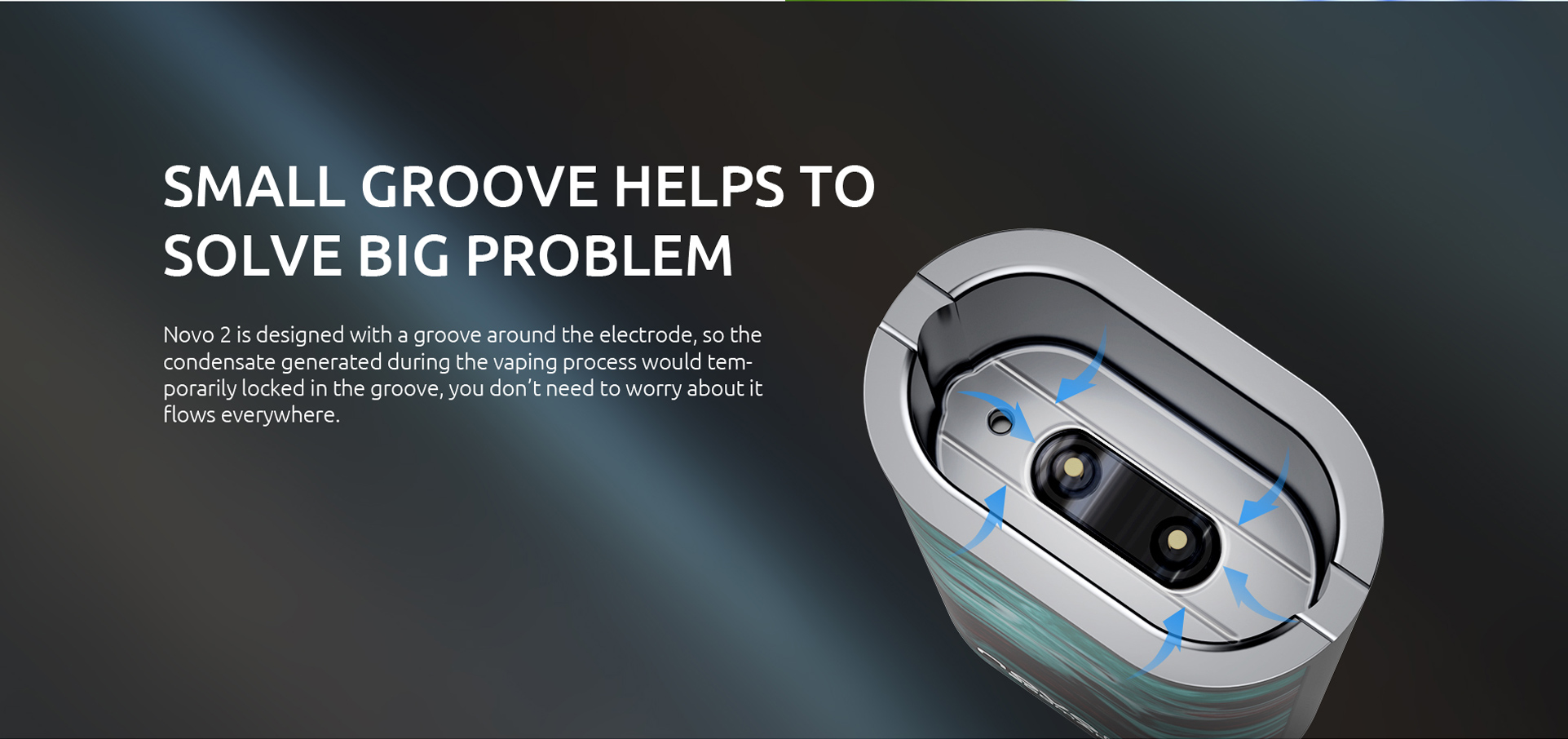 LED INDICATOR

There'a LED light on the main body of Novo 2, when you vaping or charging, it will show
red, orange or green light. Red for battery level lower than 30% , orange for battery level
between 30% -70% and green for battery level higher than 70% . According to different
light colors you can clearly know the device's battery conditions.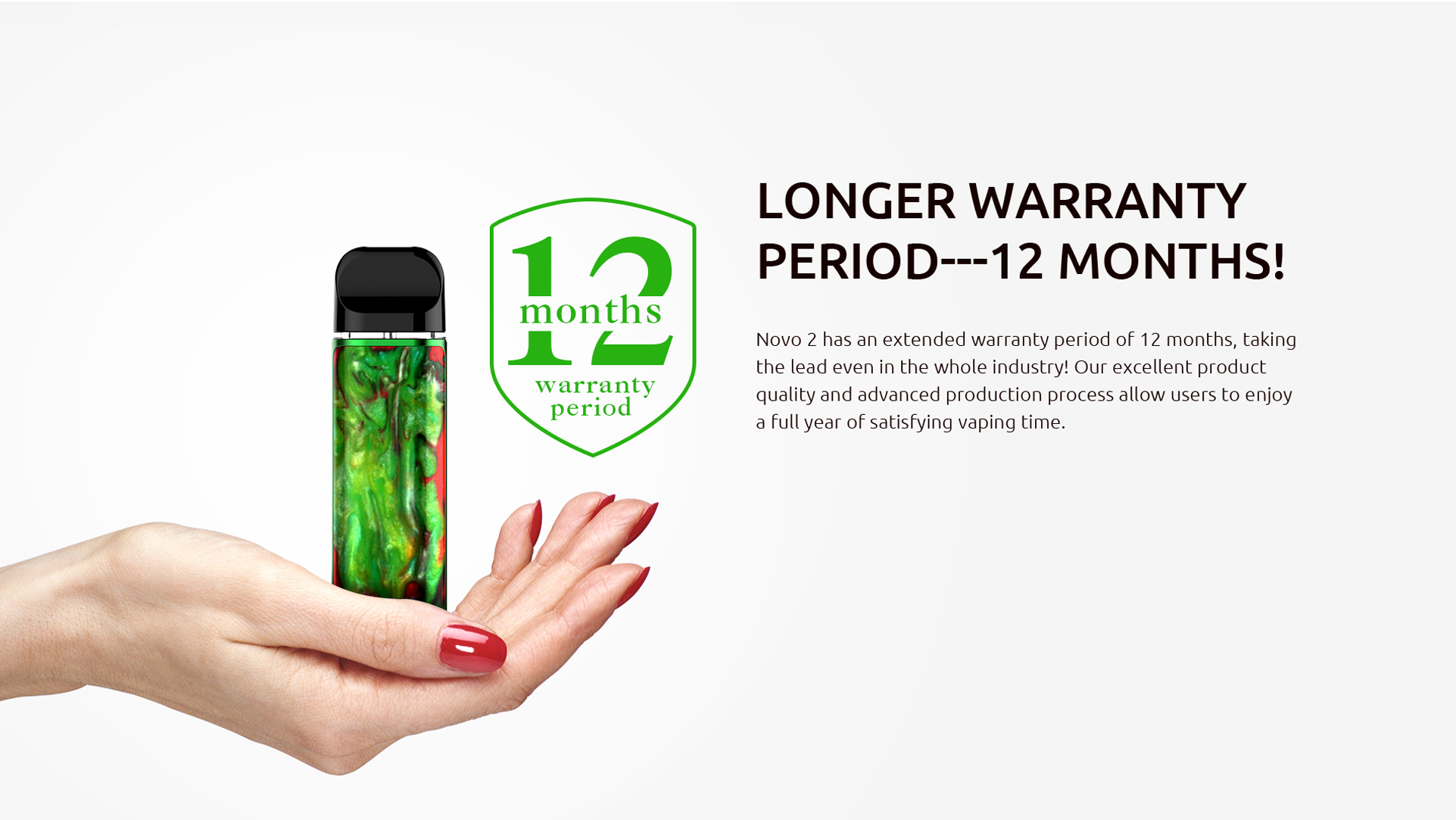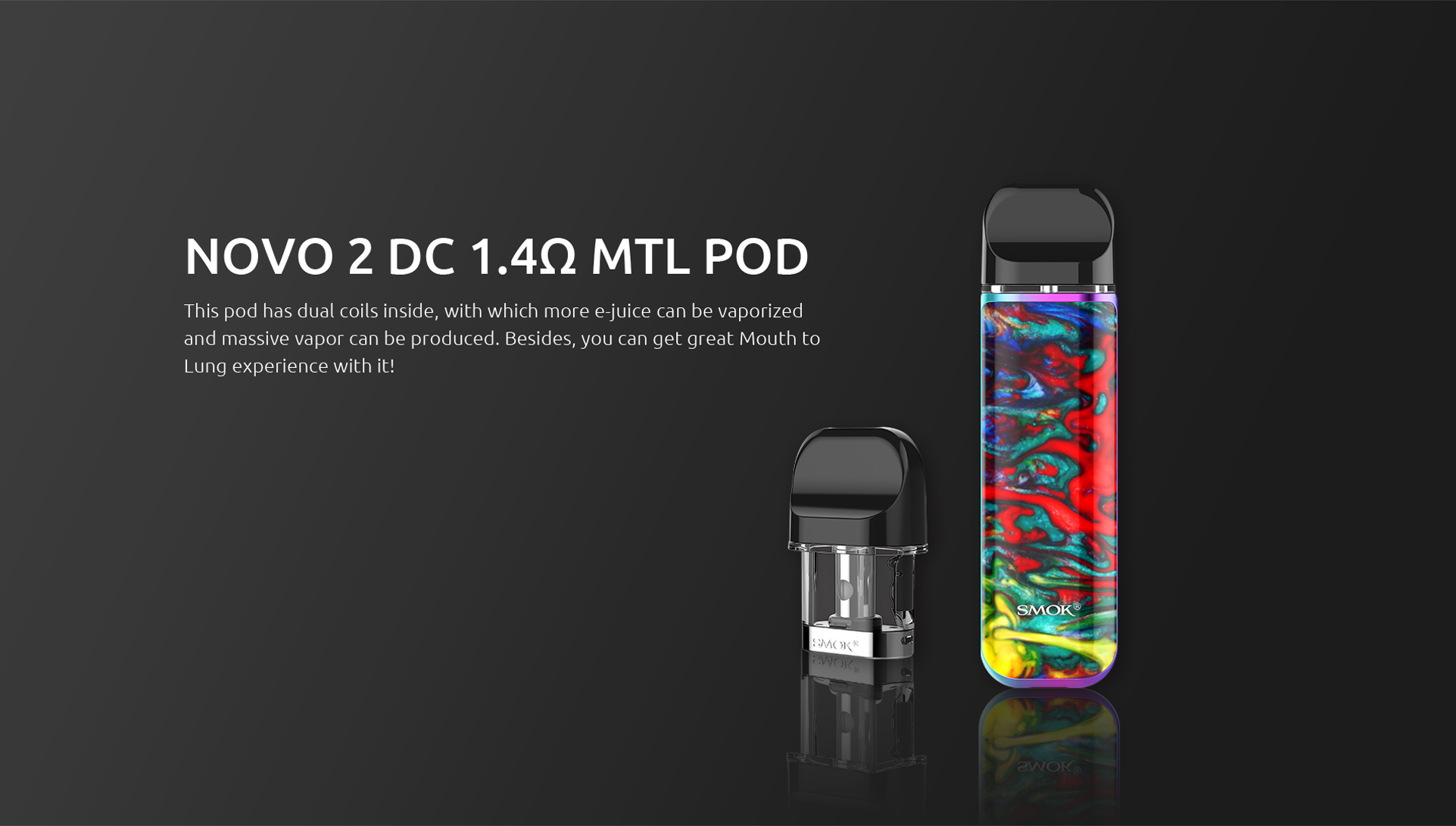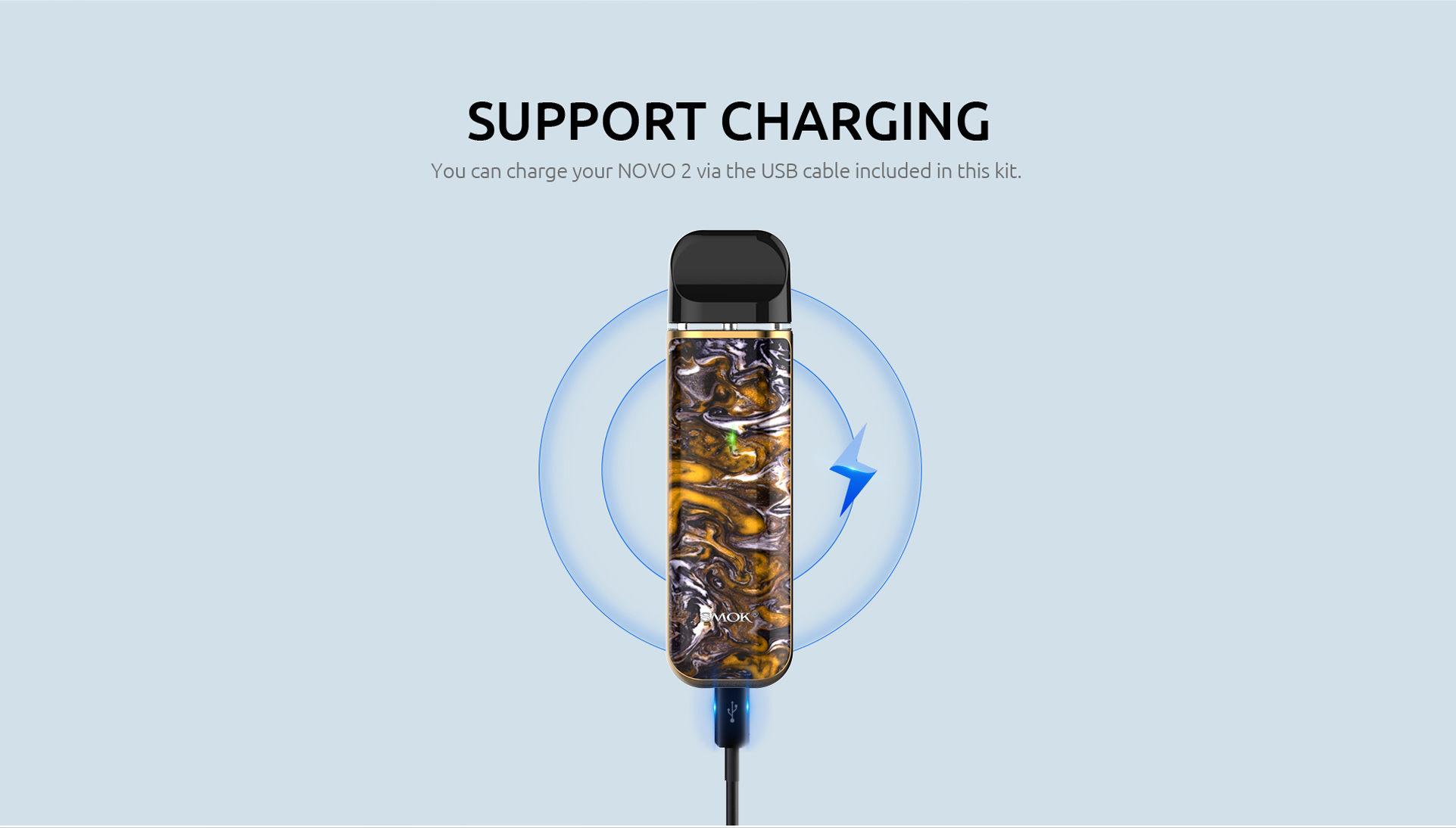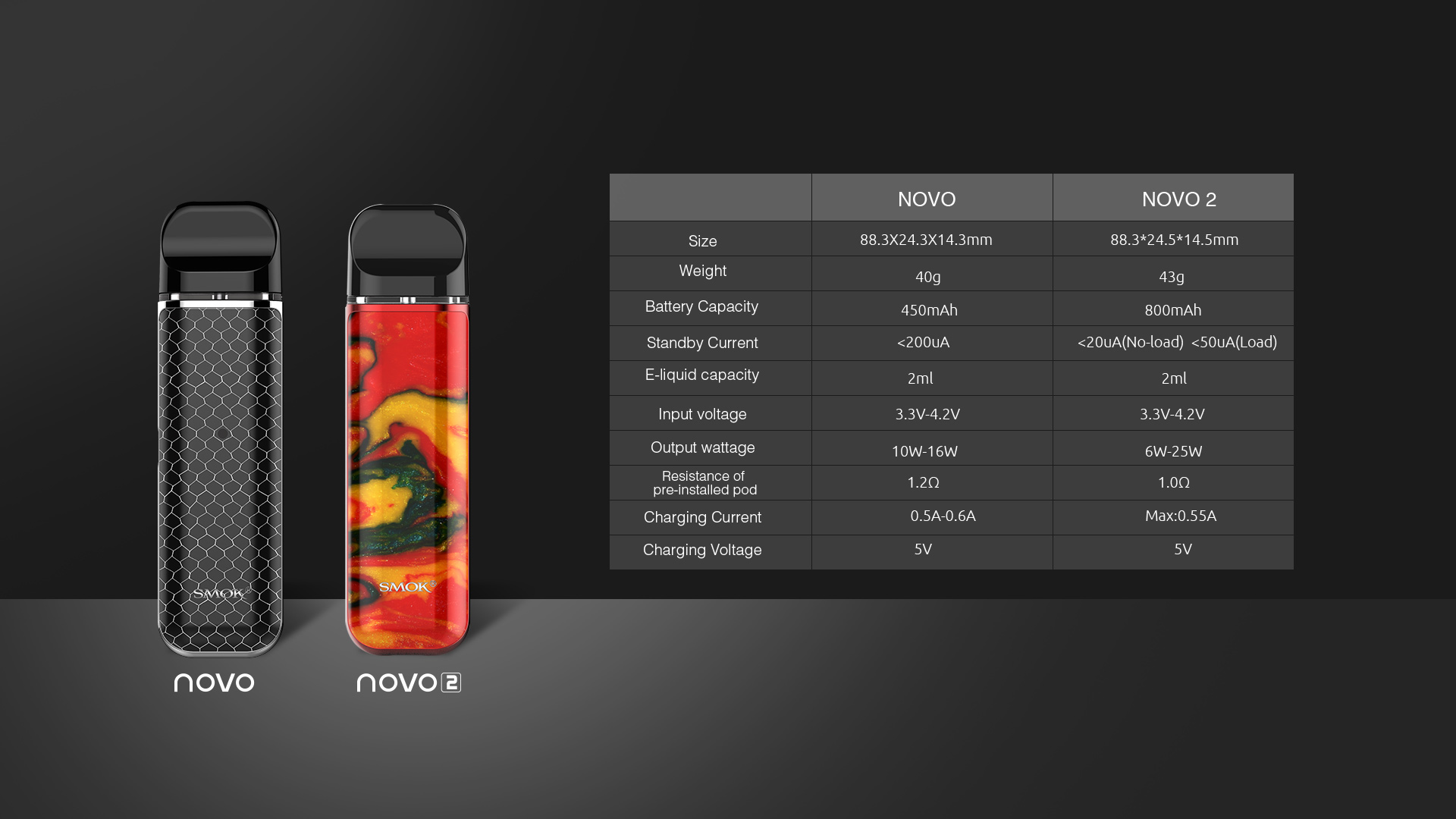 Unique Stickers

Each kit comes with 7 beautiful stickers, you can decorate Novo 2 according to your own taste. Also, you can purchase a special sticker at store or online shop to personalize your device.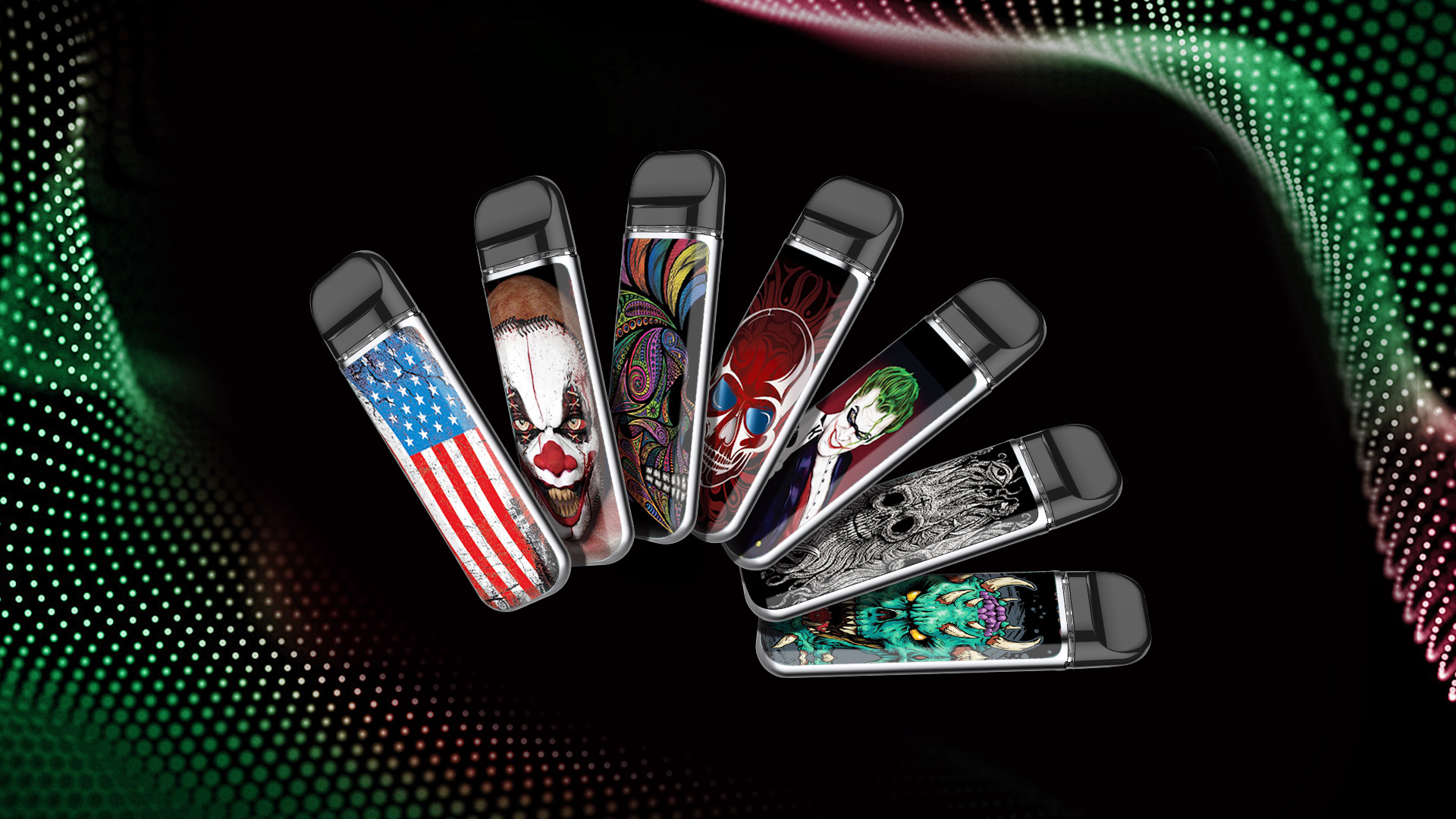 LANYARD-- SOLD SEPARATELY

There's a lanyard for Novo2, with which you can wear the device around the neck as a cool accessory and at the same
time to avoid losing or accidentally dropping.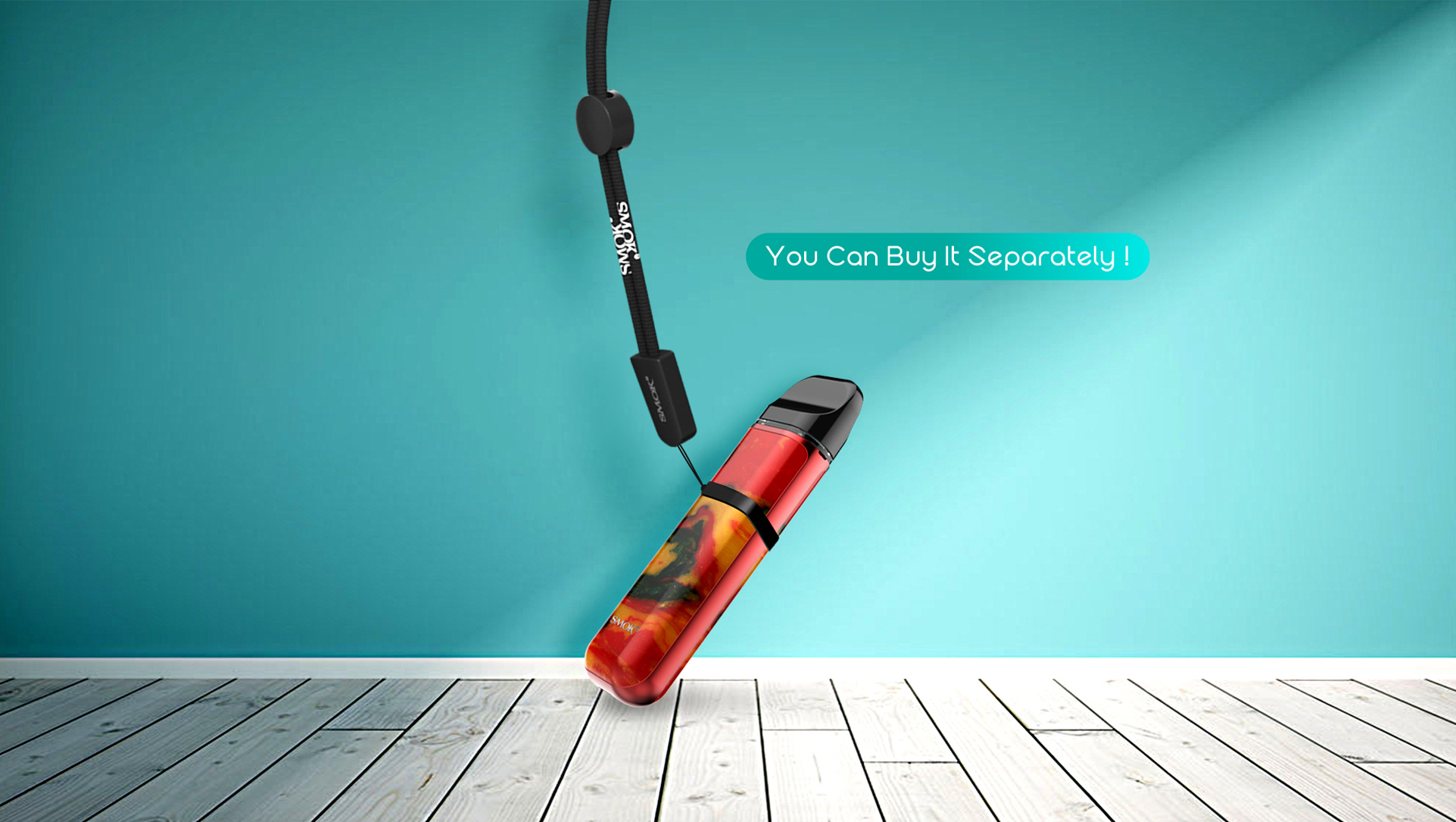 NOVO POD FAMILY
These pods are compatible with both NOVO and NOVO 2.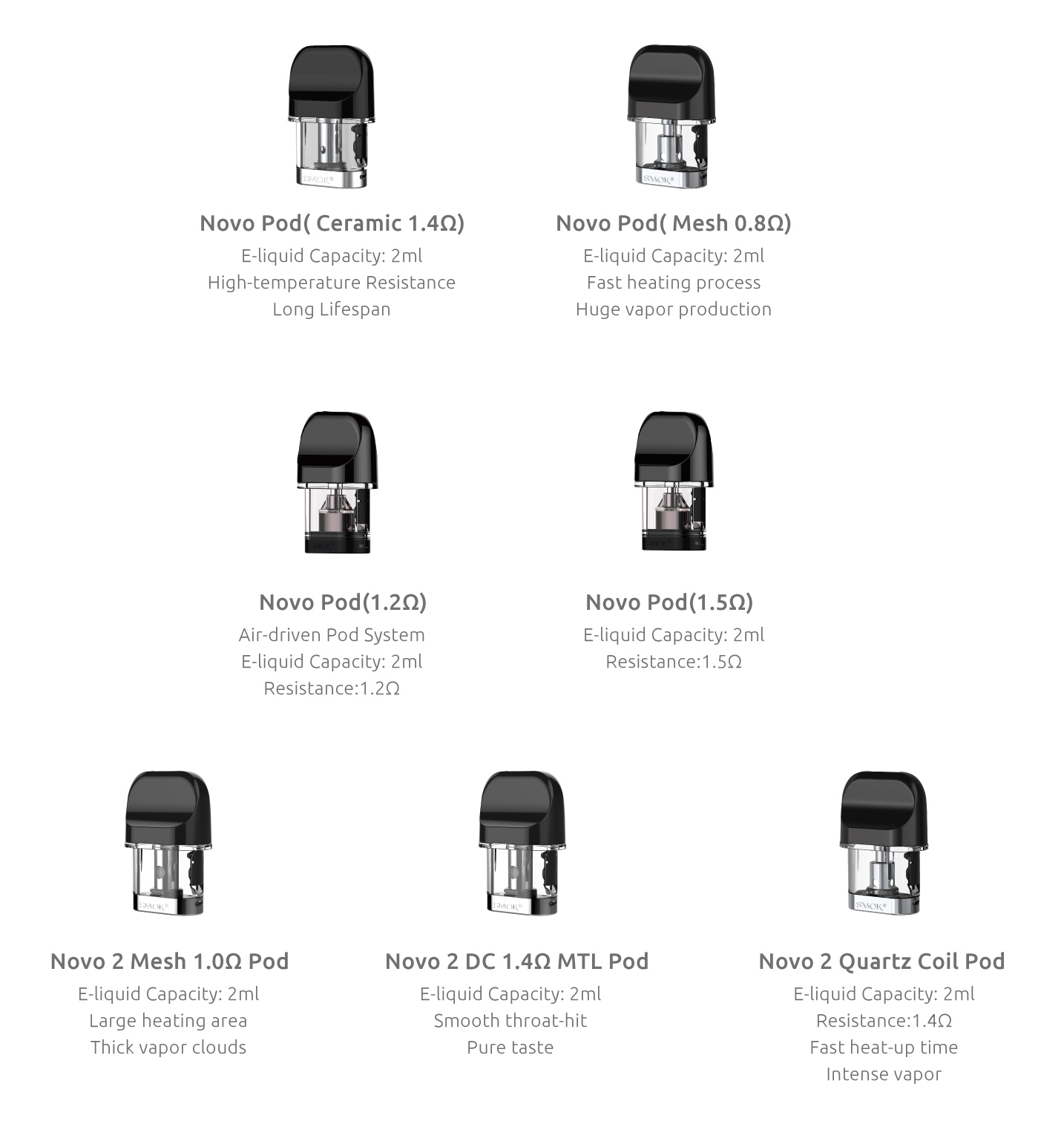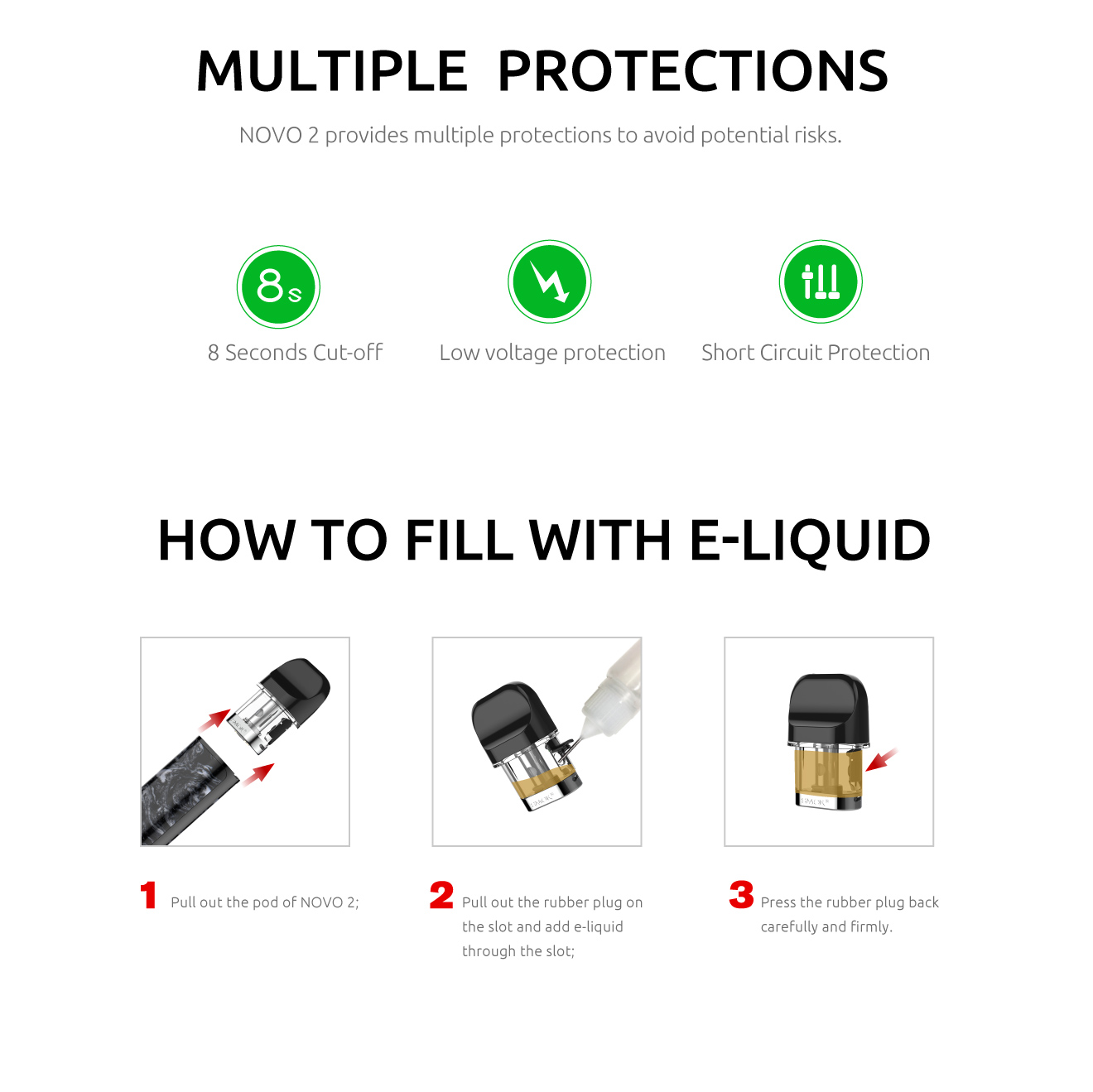 The SMOK NOVO 2 Pod System is the upgraded rendition of the original NOVO, retaining the elegant shape while sporting a visually striking finish, spacious 800mAh battery capacity, and uses an intuitive draw-activated firing method to catalyze the vaporization of premium nicotine salts within the 2mL cartridge. Revitalizing the original chassis and exterior with a livelier finish, the NOVO 2 raises the capacity of the battery life within to a whopping 800mAh to ensure the battery lasts throughout the day. Acting upon a draw-activated firing mechanism, the NOVO 2 Pod System works with the 1.0ohm Mesh Pod and 1.4ohm MTL Pod to vaporize regular eJuice or nicotine salts, respectively. Within the pods, 2mL of today's most popular juices can be stored for immediate and later vaping, creating dense flavored vaporous clouds.
The SMOK NOVO 2 Pod System is Compatible with Both Novo Pod 1 and Novo Pod 2

Quick Links:
SMOK NOVO 2 Pod System Features:
Dimensions - 88.3mm by 24.5mm by 14.5mm

Integrated 800mAh Rechargeable Battery

Wattage Output Range: 6-25W

Voltage Output Range: 3.0-4.0V

Zinc-Alloy Chassis Construction

LED Battery Life Indicator Light

Ergonomic Mouthpiece

2mL Pod Capacity

SMOK NOVO 2 Pod Series

1.0ohm Mesh Pod

1.4ohm MTL Pod

Side Fill System - Silicone Stoppered

Updated Airflow Pathing

Push-Fit Pod Connection

8s Overtime Protection

Short Circuit Protection

Low Voltage Protection

Bottom MicroUSB Port
Includes:
1 NOVO 2 Device

1 NOVO 2 Mesh Pod

1 NOVO 2 MTL Pod

1 USB Cable

1 User Manual